I am traditional enough to want a veil and even a tiara but unconventional enough to not want to wear a dress for my wedding. For a Muslim girl, who comes from Northern Nigeria, that sounds scandalous. But it is my wedding and I can do whatever I want, right?  
I love weddings so I am constantly checking out wedding pages on Instagram. People get married every day so there is always something new to see. Asides following pages that are all about Nigerian and International weddings, I follow pages that showcase South Asian weddings (I am a big Bollywood fan) and Rwandan weddings (Did I tell you my great granny is Rwandese?) Have you seen the outfits Rwandan brides wear during their traditional weddings? I am trying wrapping my head on how to wear that during my own ceremony. I am going to have to write an article about that outfit pretty soon. But what hit the nail on the head for me was seeing an Indian bride wear a suit (it is was Alexander McQueen) with a traditional Indian veil. It was like I found Nirvana. At that point, I decided that if I am allowed to have the wedding of my dreams (Destination wedding with only twenty guests) I am wearing a bad-ass suit.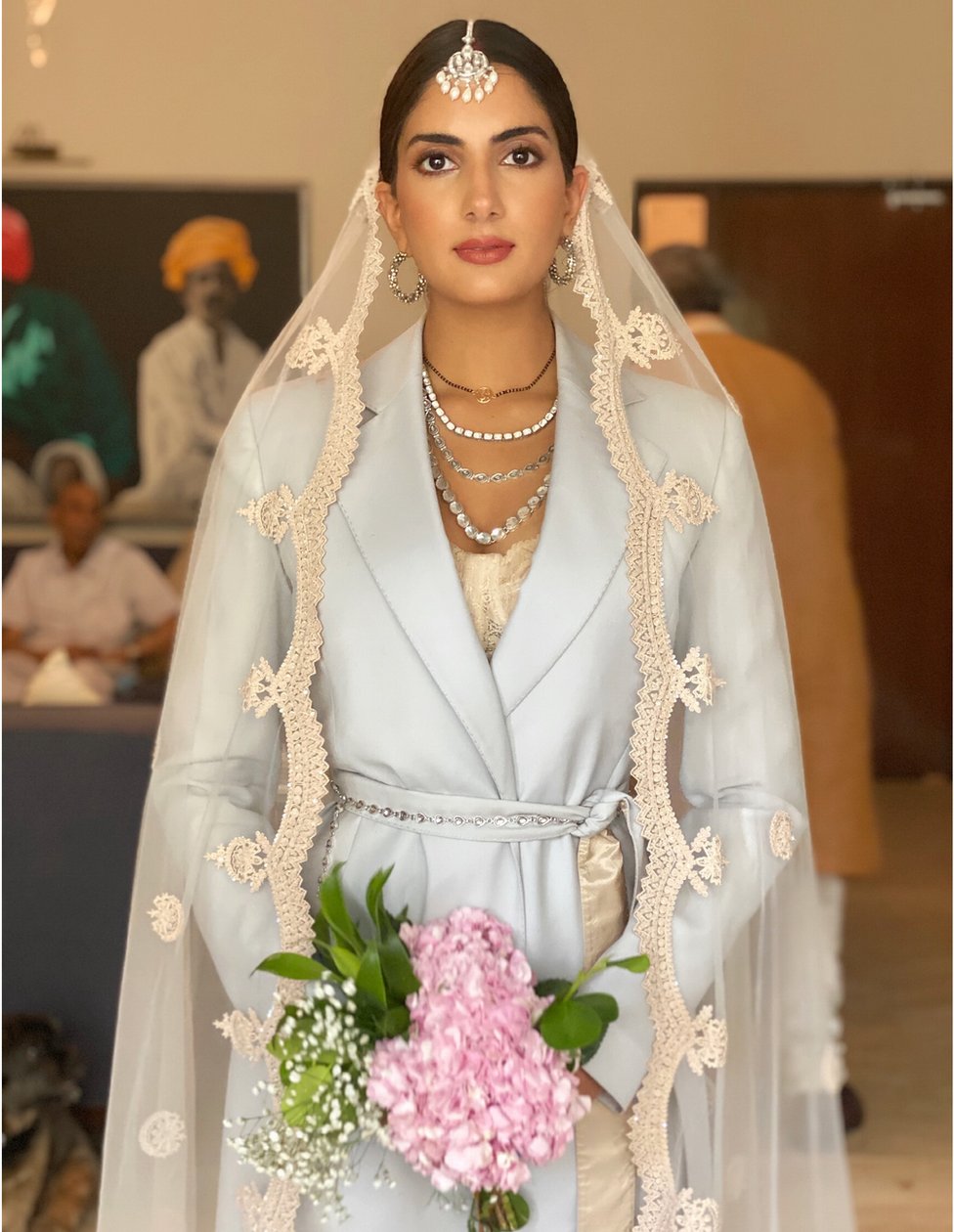 It has to be silk. I am still undecided between white and Ivory for the colour but I leaning heavily towards Ivory. I am not sure about the cut but I would like something severe. I have a resting Bitch face so… Then my pop of colour is going to be my veil. I want a heavily embroidered veil in…..I am not sure about the colour yet. It is definitely not going to a cathedral style veil. Can't be having something dragging around behind me. I do not like chains so I am not going to wear one. I am going to have Indian style earrings and ornaments in my hair. A masculine wristwatch in rose gold. I am going to have three shoes: Sneakers, Heels and flats. The heels are only for photos and I would switch between the sneakers and flats because I am going to be dancing a lot that day. I am not going to the bride who is scared that guests would term her whatever she is not demure. Who demure epp?
My youngest sister won't be surprised as she knows that her sister is unpredictable. I can't wait to see the look on my friends' faces that day. Any family member that would try to be funny about my outfit would not be invited in the first place. The only person I am a bit bothered about is my mum. I have already shocked her enough with cutting my hair. She has envisioned my in a Cinderella Style dress. I will have to come with some sort of bargain that will favour both of us. She will forgive me.
After all, Love wins
Halimah Tauheed
Halimah is a firm believer that the education and empowerment of women are essential tools for lasting peace and progress in our society and that women should be allowed to pursue whatsoever path they choose. Born and raised in Nigeria, she has been described as "outspoken,energetic and diligent". Her passion for social change has led her to volunteer at a number of organizations that are passionate about having a tangible impact on society. Halimah currently works as an Assistant lecturer at the Department of Library and Information Technology,Federal University of Technology, Minna, Nigeria. She hopes to establish a mentoring program to provide young girls and women with proper guidance to make informed choices aimed at personal fufillment. She relaxes by reading and watching movies.