Our Nigeria is a lot like Indian rubber. A little causes it to swell, while a lot will not make it burst, even stretching it beyond its normal threshold will not make it snap.
This make-up is what makes Nigeria fascinating, and keeps the outside world on tenterhooks or in suspense. Our seeming predilection for absurdity leaves people in saner and sober climes gasping for air.
À mutual friend of mine has a derisive catchphrase with which he captures the essence and stomach-turning scenarios — "Only in Nigeria". We chorus it almost in unison, during animated sessions. It can only happen in Nigeria that, a politician who has been sentenced to a term in prison, will stand election and win. Only in Nigeria will a politician who was impeached return to the office, in a blaze of glory. It is only in Nigeria that a serving senator will beat a pregnant woman in a sex toy shop and still retains his position as a lawmaker in the parliament.
When you take a close look at the actions and deeds of average Nigerian public office holders and you juxtapose it with the attitude and character of politicians in the West, say Canada, United States, or the United Kingdom, you begin to wonder if Nigerian politicians are normal human beings. They see themselves as rulers instead of leaders that are answerable to the people who voted them to power. They see themselves as Lords of Manor. It is far easier for a camel to get through the eye of a needle, than it is for a Nigerian governor to go around in public without an entourage of fearsome escorts.
A couple of days back, I came across a video of United Kingdom prime minister, Boris Johnson, shopping in what appeared to be a Pakistani supermarket. He was alone. No stonefaced intimidating bodyguard, no gun-toting expressionless security operatives. Just him alone. Even more intriguing is the fact that he rode a bicycle to the supermarket. That is the leader of one of the most important and powerful countries in the world. Aside from his spartan disposition to leadership, the solitary shopping allows him to relate with the people, feel their pulse, and also bond with them.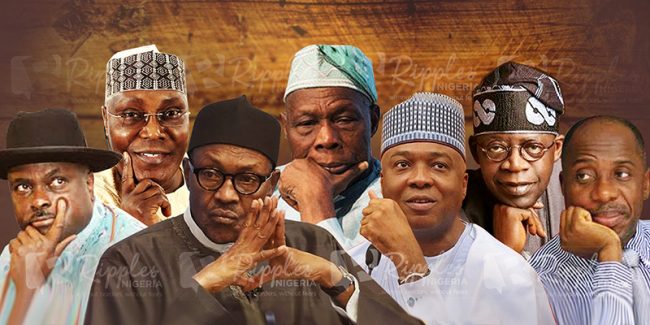 Situations and instances like the one mentioned above are a rarity in Nigeria's socio-political terrain. They are exceptions rather than the norm, and when you see a Nigerian politician engaging in such simple and somewhat self-deprecating activities, then two things are involved; it's either election is around the corner and he/she needs the people's vote to actualise his goal so he's to relate with them in a way that creates a false sense of belonging among the people or such demeaning adventure is forced on him/her by circumstances– a public relation gimmick that's needed to shore up a battered image. Nigerian leaders and politicians are by default uppity which is why they see their positions as ones which they attain by virtue of their struggle and not by choice and will of the people.
The utter disdain and odious contempt for the people they are supposed to treat with reverence and dignity played out again recently during the public hearing of constitution review in Lagos were the senator representing Lagos central at the Upper legislative and also wife of All Progressives Congress (APC) national leader, Oluremi Tinubu, vituperated one of the attendees of the public hearing, she called the woman a thug and dog. While Oluremi's public spat with colleagues in the hallowed legislative chamber is a matter of public knowledge, such condescension and palpable lack of decorum should not be extended to the people you're representing. In fact, in a proper and ideal democratic setting and not the abused and convoluted one like ours, it is the preserve of the electorates to call for the head of any politician found wanting, they wield the power and influence to initiate proceedings that will culminate into the eventual removal of politicians with dispositions and mannerisms not befitting of public office occupants.
Oluremi Tinubu's incident is not a one-off, the prevailing circumstances only make her a perfect metaphor for entrenched absurdity. One would expect a woman whose husband is reportedly eyeing the highest of office in the land to be more circumspect in her dealings. You will expect such a person to speak in measured tones instead of hurling unrestrained invectives at the slightest provocation. You want them to be forthright and unassuming in their actions. You want them to be good-tempered and affable.
Nigeria Politicians and public office holders are not only haughty and condescending, but they are also diabolical, which is why they will go to any length to achieve their aim. They kill, maim and unleash terror on the people they are expected to serve. Just last month, an aggressive sleuthing campaign by Twitter users had adumbrated a compelling and trenchant investigative report by intrepid journalist, David Hundeyin, after Iniubong Umoren, a job seeker, was murdered in cold-blood by a maniac who posed to be a supposed employer. In the startling investigative report, a former governor of Akwa Ibom state, Godswill Akpabio, and one other top civil servant in the ministry of Niger Delta were indicted in what appeared to be a body organ trafficking ring.
Nothing has happened to the people fingered in this dehumanising venture. If anything, an irksome press conference was organised with the help of mercantile journalists where the killer became the victim and the victim became the killer. The sight of everything was not only displeasing but troubling.
But ours is a country of inexactitude. As the time-honoured adage goes, a leaf does not fall from its tree. We can malign and vilify our politicians all we want, but these unconscionable persons are cut from the same fabric that shrouds us together as a people and a nation. An average Nigerian is selfish, corrupt, avaricious, and opportunistic. Every terrible thing they accuse the shameless and self-serving political class of doing, they are more than capable of replicating it more viciously and shockingly. The only thing restraining them is the power and position needed to exhibit such inglorious traits.
Having said that, we need to do better as a people and a nation. The politicians and public office holders must see their jobs as service to the people and must remember that castigating and calling them out whenever their actions fall short of expectations or they overstep the due bound of propriety is part of citizens' civic responsibility.
Also, Nigerian politics is heavily monetised and we spend so much on people in government – recurrent expenditures gulp more than half of most states' budget — and that's one of the reasons the concept of the social contract is alien to most Nigerian politicians because many continue to see politics and government as a one-way ticket to affluence and wealth. Their motive for venturing into politics is not spurred by altruism, but by a desire to cut meat from the proverbial national cake.
Things need to change and they need to change real quick.
Afolabi Hakim
Afolabi Hakim is a journalist, content creator and writer. He is always on the look out for ways to broaden his knowledge spectrum and Impact people's lives positively.